Note: The store in photo is not our local Roanoke TJ Maxx – They have yet to open, lets hope our local TJ Maxx can do a better job than this one…. (Which may be in AK)
Earlier today Friday May 15th 2020 – Purportedly (NOT A ROANOKE LOCATION) A T.J. Maxx has opened its doors today and seems to not be very concerned with or practicing the recommended guidelines for Covid-19 Coronavirus safety (If the image represents what our local TJ MAXX store is doing). The photo shows dozens if not hundreds of shoppers in line and shopping heel to toe and shoulder to shoulder with disregard to "social distancing" guidelines. The VintonVoice is all for businesses being back open for the economy and understand if people want and need to go out and shop, BUT this type of imagery will get in to the hands of people who want to slow the opening of businesses. Even if you think the Virus is "no big deal" you still must see that this type of crowd photographed will hurt the progress we are trying to make on local and state levels as far as business openings (With or without infections). It just doesn't look good. (Even to us and we are all for opening back up slowly and safely). We will be out shopping local and you should too, just keep the practice of safety going!
What DO You Think About This Crowd at T.J. Maxx which has a store in Roanoke Virginia (Comment)
(Someone Circulated This Photo As TJ MAXX in Roanoke – It is not in Roanoke – That post was inaccurate) But the store is open in other states and this is what it looks like (That's The True Part)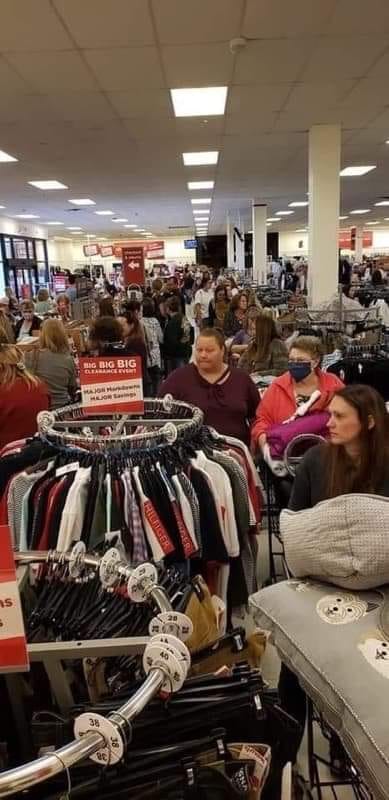 The image above is circulating on social media and dozens are commenting on how they don't agree with T.J. Maxx's Management on reopening.