An employee (team member) of FarmBurguesa in Roanoke has tested positive for Covid-19
One of the communities favorite burger restaurants FarmBurguesa (Locations In Roanoke & Vinton VA) has published a public announcement on Facebook (what facebook calls a COVID-19 Update), confirming a team member has tested positive for Covid-19.
The announcement in text format and a screenshot from their facebook page is below:
We were informed approximately at 10:30pm last night of a positive COVID test for a FarmBurguesa team member. The team member was last on site in the Roanoke location on Wednesday and has since quarantined. We immediately reached out to the VDH (Virginia Department of Health) requesting assistance to move forward. Until then we will remain closed at our Vinton and Roanoke location. We will update via social media and our website all as soon as we hear back. Throughout the pandemic, many precautions and safety measures were implemented. -We continued our regular and robust cleaning protocols across FarmBurguesa. -All employees are provided washable fabric and disposable facial coverings, disposable gloves.-Food and safety training. -Daily temperature checks and health screenings for all employees.-Requiring all employees to wear masks-Practicing social distancing and frequent handwashing-Daily deep cleaning using CDC-approved disinfectant-Remained in contact with health department representatives We will continue taking diligent measures in accordance with local, state and federal guidelines to ensure the safety of our employees and customers.As we navigate this challenge, we remain dedicated to our mission and focused on transparency for our team and customers.We thank you for your support and understanding.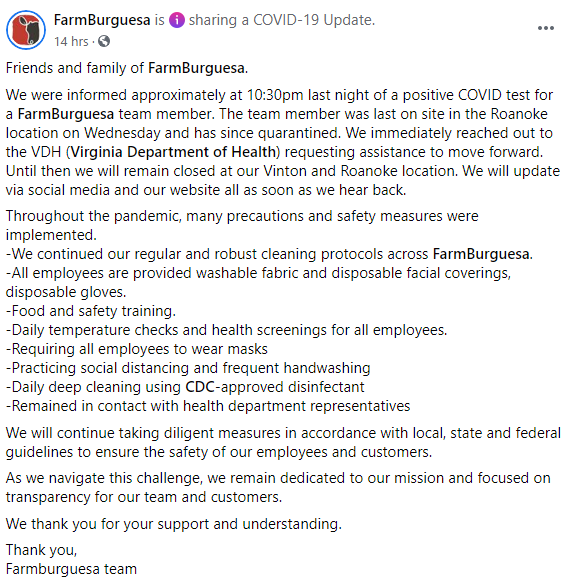 Our prayers and thoughts go out to the team member that has tested positive and also to all of the employees and owners of the restaurant. Being in Vinton we are very familiar with this establishment and we commend them on taking appropriate safety precautions during the Covid-19 Crisis and the swift actions they are taking now regarding the infected employee. We hope to see them back open soon.